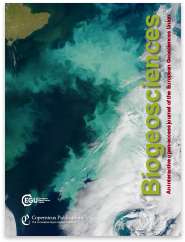 Co-editors-in-chief: Michael Bahn, Steven Bouillon, Anja Rammig, Tina Treude & Sara Vicca
Biogeosciences (BG) is a not-for-profit international scientific journal dedicated to the publication and discussion of research articles, short communications, and review papers on all aspects of the interactions between the biological, chemical, and physical processes in terrestrial or extraterrestrial life with the geosphere, hydrosphere, and atmosphere. The objective of the journal is to cut across the boundaries of established sciences and achieve an interdisciplinary view of these interactions. Experimental, conceptual, and modelling approaches are welcome.














More highlight articles

All EGU highlight articles

Most cited articles 2019

News
09 Feb 2022
EGUsphere opens for preprints
EGUsphere, the innovative open-access repository created by the European Geosciences Union and Copernicus Publications, is growing. For the first time, authors will be able to upload preprints to the online resource, taking advantage of EGU's pioneering public peer-review process, whilst preparing their papers for future release.


28 Jan 2022
Press Release: One sea to many oceans: First of its kind study on oxygen flow and its role in sustaining life globally
The Labrador Sea between Canada and Greenland is often referred to as a 'lung of the deep ocean' because it is one of only a handful of locations worldwide where oxygen from the atmosphere can enter the deepest layers of the ocean. In a new study published in BG, a team of researchers from Dalhousie University in Halifax, Canada and the GEOMAR Helmholtz Centre for Ocean Research Kiel in Germany have now, for the first time, measured the flow of oxygen into the deep ocean interior that is carried by these deep currents. It is the oceanographic equivalent of measuring oxygen transport in our bodies through the main artery or aorta.


27 Jan 2022
Outstanding Associate Editor Award 2021
In recognition of her excellent services as Associate Editor, Carolin Loescher (University of Southern Denmark) has been selected as Outstanding Editor 2021.