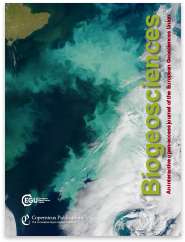 Co-editors-in-chief: Michael Bahn, Steven Bouillon, Katja Fennel, Anja Rammig & Tina Treude
Biogeosciences (BG) is a not-for-profit international scientific journal dedicated to the publication and discussion of research articles, short communications, and review papers on all aspects of the interactions between the biological, chemical, and physical processes in terrestrial or extraterrestrial life with the geosphere, hydrosphere, and atmosphere. The objective of the journal is to cut across the boundaries of established sciences and achieve an interdisciplinary view of these interactions. Experimental, conceptual, and modelling approaches are welcome.
















More highlight articles

All EGU highlight articles

Most cited articles 2019

News
22 Apr 2021
CO2 physiological effect can cause rainfall decrease as strong as large-scale deforestation in the Amazon
The impact of large-scale deforestation and the physiological effects of elevated atmospheric CO2 on Amazon rainfall are systematically compared in this study. The authors' results are remarkable in showing that the two disturbances cause equivalent rainfall decrease, though through different causal mechanisms.


27 Jan 2021
Outstanding Editor Award 2020
In recognition of his excellent services as Associate Editor, Alexey V. Eliseev has been selected as Outstanding Editor 2020.

27 Jan 2021
Outstanding Reviewer Awards 2020
The Outstanding Reviewer Awards 2020 will be awarded to Olivia Clifton and Euan Nisbet in recognition of their excellence in reviewing.